Alexa's Trailblazing Legacy

A Tribute to Alexa McDonough
Watch the NSNDP's video tribute to Alexa here.
A Legacy of Leadership
Alexa was trailblazer who encouraged and mentored countless women leaders. One of the ways to help continue her legacy is by giving to the Women in the Legislature Fund, a fund that supports the next generation of NDP women to run for office, which she helped to create.
Obituary of Alexa Ann McDonough
August 11, 1944 – January 15, 2022
She was born Alexa Ann Shaw in Ottawa on August 11, 1944. She became Alexa McDonough when she married the late Peter McDonough in Halifax in 1966. She began her career in social work as the assistant to the director of Social Planning Department at the City of Halifax in 1969, and later served as a member of the faculty at the Maritime School of Social Work at Dalhousie University. Read More
10 Reasons Why Alexa McDonough was an Iconic Feminist Leader
In November 2020, New Democrats marked the 40-year anniversary of Alexa McDonough becoming leader of our party in Nova Scotia.
Alexa was a trailblazer who changed the face of politics in our province and country. To celebrate her legacy, we shared 10 reasons why Alexa was an iconic feminist leader.
1. Alexa was the first woman ever elected to lead a major political party in Canada. Alexa was elected Leader of the Nova Scotia New Democratic Party on November 16, 1980.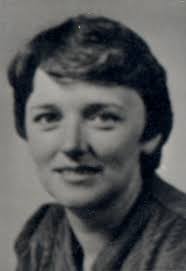 (Photo credit: NS Legislative Library, Alexa's 1982 Portrait for the House of Assembly)
2. Alexa was the second woman leader of the federal NDP, following Audrey McLaughlin. To date, she is the only woman in Canada to have led a party at both the provincial and federal levels.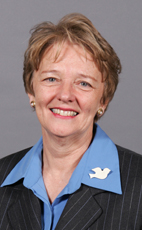 (Photo credit: House of Commons)
3. Alexa has an institute for Women, Gender and Social Justice named for her. Alexa's legacy as a feminist leader was recognized in 2013 by Mount Saint Vincent University when they announced their Institute for Women, Gender and Social Justice would now be named the Alexa McDonough Institute for Women, Gender and Social Justice.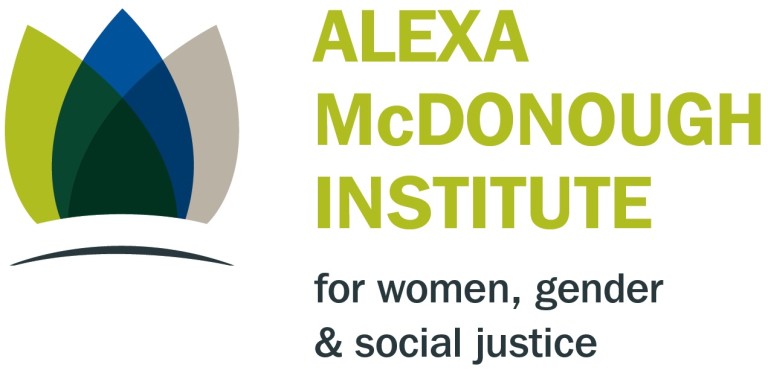 4. Alexa fought for stronger abortion access for decades.In 1989, she stood as the lone MLA in the Nova Scotia legislature to support a woman's right to choose.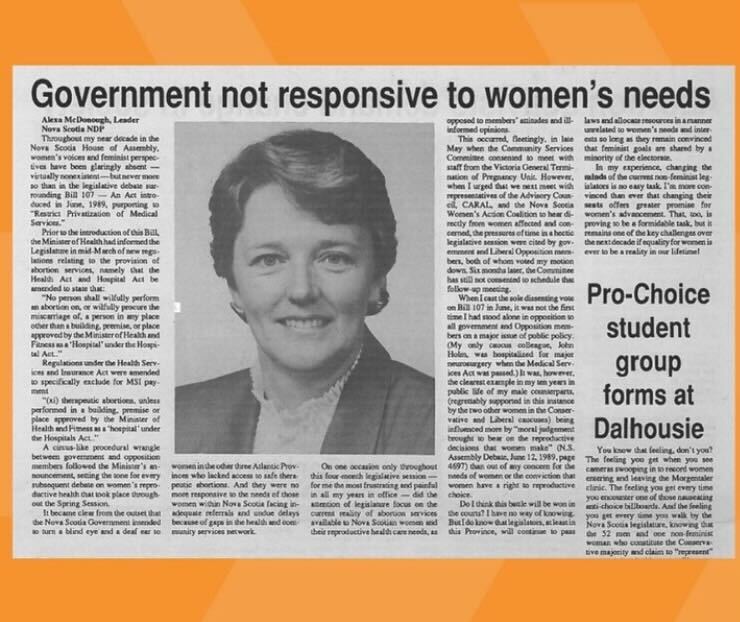 5. Alexa was the queen of canvassing, growing our movement through door-to-door conversations. Alexa was a prolific canvasser, never shying away from a conversation or a chance to connect with the people she represented. She was a passionate spokesperson for social democratic values.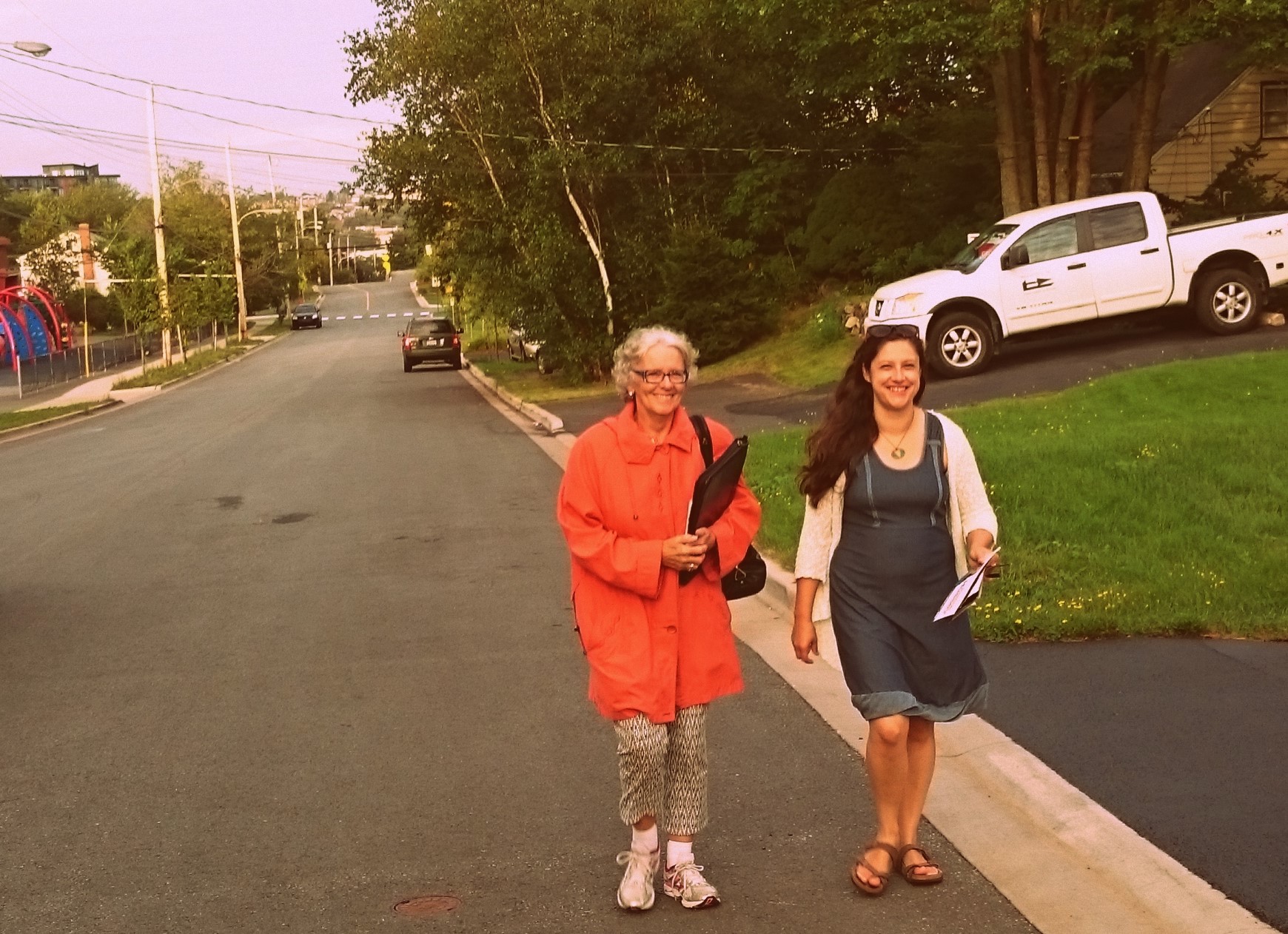 (Photo credit: Joanne Hussey)
6. Alexa was a steadfast supporter of women and equity-seeking groups in the Party. As Leader of the NDP in Nova Scotia (1984) and federally (1997), she led us in campaigns that regained official party status for the NDP, opening the door to the halls of power to many marginalized voices.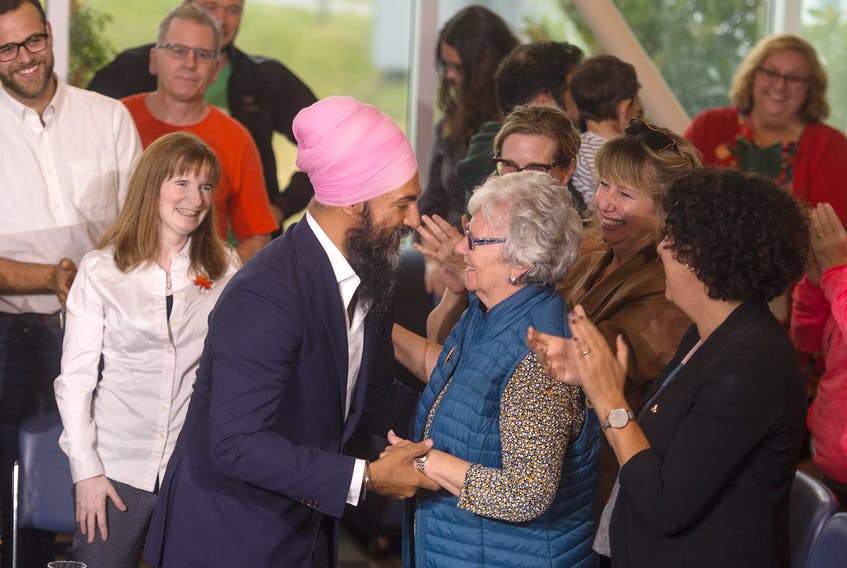 (Photo credit: Ryan Taplin, The Chronicle Herald)
7. Alexa was a longstanding supporter of the 2SLGBTQ+ community. As described in Before the Parade by Rebecca Rose:
During the 1981 provincial election the GAE [Gay Alliance for Equality] invited the candidates from all three provincial parties to attend the Pink Triangle Affair to celebrate the acquittal of The Body Politic and the first ever Pink Triangle Day at The Turret. Only Alexa McDonough, the recently elected leader of Nova Scotia's New Democratic Party, accepted.
That night, Deborah Trask, who had been living in McDonough's basement, met Alexa at the building's front door. Alexa was nervous. "It was a major social event" and there was a lineup to get in, says Deborah. From the very butch to the drag queens, they were all there. "Everyone was so astounded that she came that they were reaching out to touch her, to thank her, and I really felt that her presence validated our community," she says. It was also an eye-opener for Alexa, says Deborah.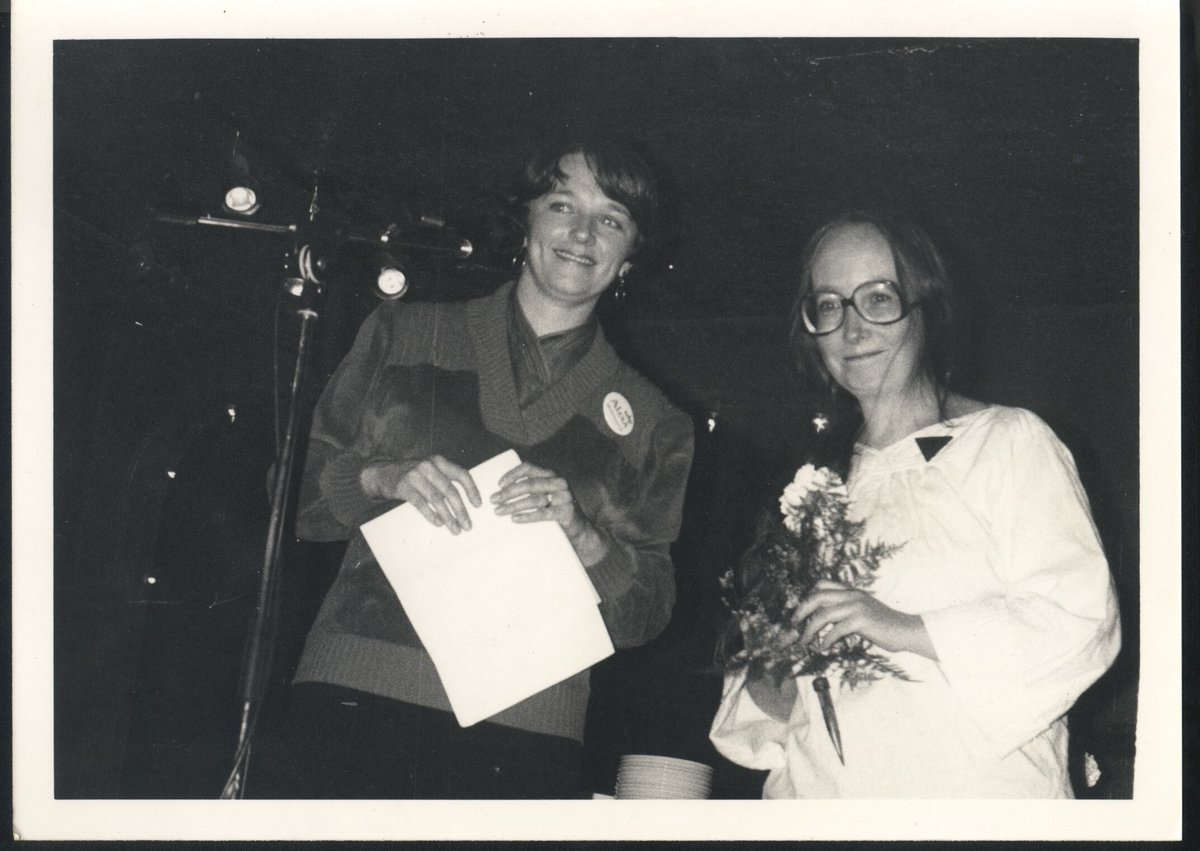 (Photo credit: Robin Metcalfe – Alexa and Bi-sexual feminist activist elder Lynn Murphy at The Turret in 1981.)
8. Alexa successfully championed the enactment of Nova Scotia's first Occupational Health and Safety Act. This legislation was a progressive landmark for the province.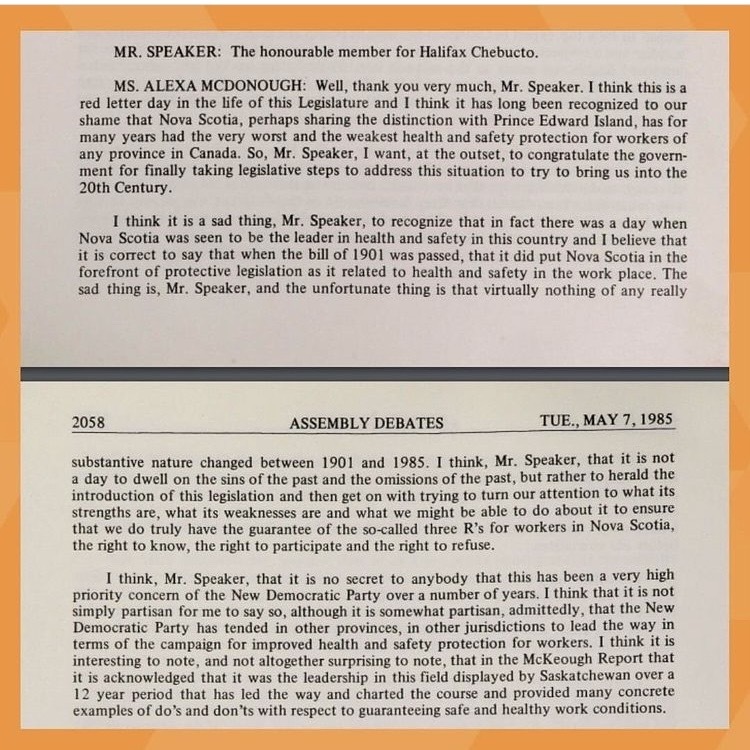 9. Alexa expanded the NDP's success into mainland Nova Scotia. Until Alexa became provincial leader, the CCF/NDP's only Maritime victories were in coal mining areas of Cape Breton. Alexa established the provincial NDP as a significant political force on the mainland of our province, with a breakthrough popular vote in 1981. In doing so, she laid the groundwork for elections that created a Nova Scotia NDP caucus with seats on both the mainland and Cape Breton.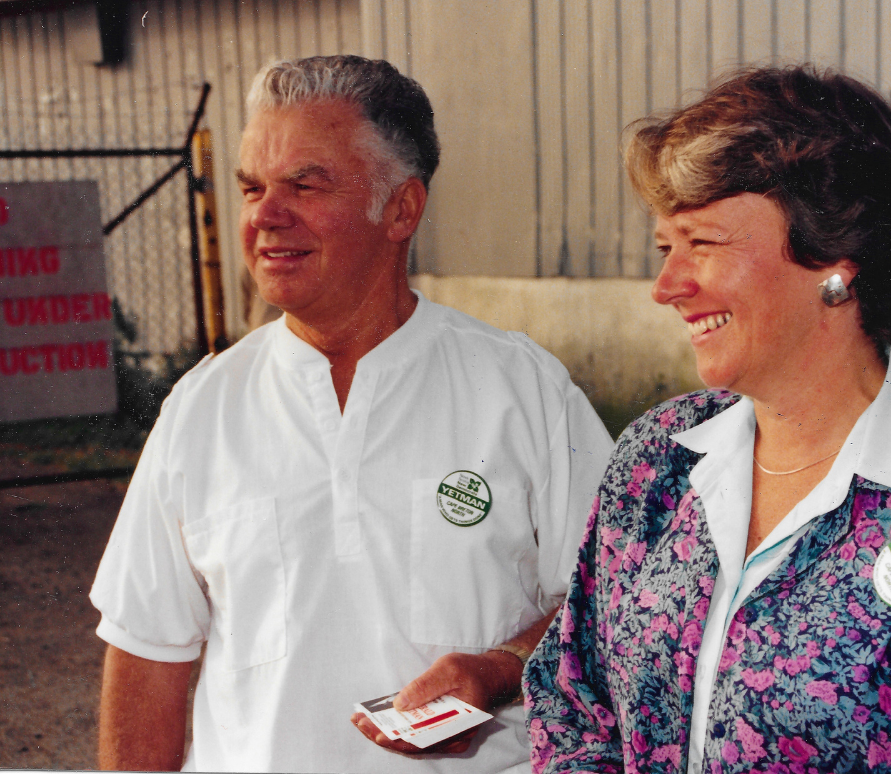 (Photo credit: Joanne Lamey – Alexa with Gerald Yetman in Cape Breton)
10. Alexa helped the NDP win more federal seats.As federal leader, Alexa led the NDP in a Maritime breakthrough, winning 6 seats in Nova Scotia and 2 in New Brunswick, and impressive second-place finishes in other Maritime districts. In 1997, the party won six of the eleven federal seats in Nova Scotia. Her victory galvanized support for the provincial NDP, creating the electoral base from which we formed the first NDP government east of Ontario.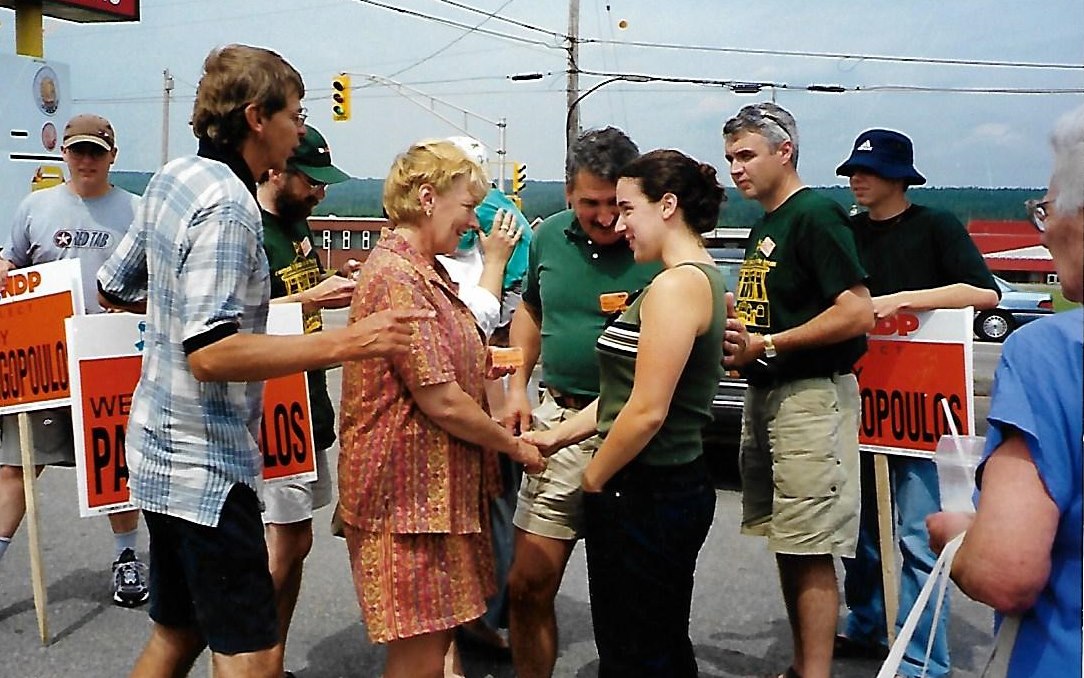 (Photo: Alexa with former NSNDP President John Arther Murphy on the campaign trail.)
How has Alexa influenced you or your life? Share your story on social media with the hashtag #AlexasLegacy.